Over at
The Kings Court I

v
, I have joined, the
Twitter Blog Hop
. Then over at
The Two Savvy Sisters
, I joined, Buzz on by Thursday!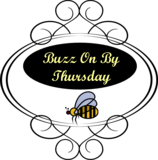 Getting your bunny legs on and Hop on over! (Yes,lame, I know.) One of those mornings.
My darling 'B' woke up yesterday morning with a smidgen of a fever. So, in went the Motrin and ice water, and he told me that he felt fine and still wanted to go about our day. Are you sure? YES. OK. So, off we went to the IHOP for some Minionade and pancakes. Which, by the way, that Minionade rocks! I kept asking him over and over if he still felt good enough for a surprise, and of course, he was. His fever hadn't returned yet, so off we went, I could tell he was sick because when we pulled up to the mall he got super upset and just started to cry and tell me that 'THAT IS NOT A SURPRISE'! "Whoa! Hunny, how do you know?
It is THE MALL, there are a ton of things in there that could be a 'surprise' ". He realized how he was acting and immediately calmed down, we walked in and just sat down on a bench, then after 5 minutes we walked over to the playground. They had a blast at the playground! It is super cute, it is a section in the middle of the food court, where there are roads, cars, boats, bridges, rocks, rivers, and trees which are all made out of foam and covered with a plastic type cover and painted. So in other words, they are soft and very durable, they can walk on them, stand on them, the cars have slides built in to slide down them. It's pretty cool. Well, while they were playing, I snuck off (my mom was watching them) so I could go purchase our movie tickets.
My kids have NEVER been to the movies. Ever. So this ought to be fun. I bought tickets for Toy Story 3, and holy cow, $32.00 for tickets! This is probably why they have never been. And on top of that, of course they were hungry, so I bought a SMALL bag of popcorn and a combo with a Large drink and 5 mini hot dogs, this cost me $17.00! I will be waiting for the next movie they want to see to come out on dvd. Any who. I watched them play for about 15 minutes and then we headed over. We walked in and I got all the usual questions: "Where are we going?" "What are we doing?" "Why is it so dark?" "Look at the cool cut outs!" "What is all of that noise?" LOL.
So I told them we were at the movie theater, I literally got a look from the both of them like I had lost my mind, then I said "its a place with NOTHING but movies playing all day on HUGE screens. The look was a little better, then I mentioned TS3, and they seemed happy. Not over joyed, like I was hoping for, but happy would do. We went in sat down, there were literally 4 other families when all was said and done, which made me feel 10x better. I DO NOT DO THEATERS. The last time I was in one, well the second to the last time, I had a panic attack (b/c of all the people) and had to leave 5 min. in. So, I was skeptical and felt better once I saw how little people were in there.
Any who, movie was great, kind of a tearjerker near the end. Yes, I shed a tear or two, I am a softy. :) Ladybug fell asleep about an hour in to the show and B stayed awake the whole time. I think he liked it, but he was just, not feeling too well. Got home and of course he didn't want to eat much dinner, and he went to bed and fell right to sleep. (Another sign he is sick, he is actually sleeping) This morning he has a Dr.'s appointment and when he woke up he had a higher fever than yesterday. Not to mention, he scared me, I woke up and he was in the kitchen getting some water.
I walked in and he is wheezing so bad, like he couldn't catch his breath, and I made him lay down so I could pat his back and break up some of the stuff. Ugh. Poor thing, I don't think he has ever been this sick, I hate it for him. He just wanted a Popsicle for breakfast, fine with me baby, of course ladybug did too. But she isn't sick, so she received some pop tarts and fruit salad. :) Well I should be getting in the shower and heading to the Dr. Hope you all have a great day, and for those of you in this horrid heat, STAY COOL. I think yesterday or the day before our heat index was 117, in GA!!! Autumn hurry home.