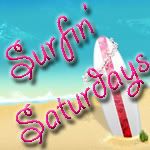 Hey guys, Its Surfin' Saturdays over at Chubby Cheeks Thinks!!! I just adore this blog, this lady is just wonderful, and her kids are so adorable! Get in on the fun!
On another bloggy note, today in Georgia, the heat index is going to be 110. OK, suffocatingly miserably
HOT
.
'Dear Fall, if your listening.... Please grace us with your presence ASAP. I need red, orange, & gold leaves falling, cooler temperatures, hoodies, apple cider, crisp mornings, pumpkins, cinnamon, Everything about YOU is beautiful!!!!
Sincerely yours, Kristin'